Rainbow Rowell's
Carry On
is finally here! It's the story of the fictional, fictional (yes, 2 fictionals), Harry Potter-esque characters from
Fangirl
. That's confusing, so here's some background information to bring you up to speed.
I initially picked up Fangirl because I have been, on occasion, accused of being a "fangirl" of a certain band. I thought that's what the book would be about, a just-skirting-the-edge-of-obsession, music fan. It's not. The title refers to one of the characters who writes fanfiction based on the Simon Snow books. Simon Snow resembles Harry Potter, in that he goes to a magical school, and has an arch-nemesis, and is the Chosen One. Fangirl is of course about a great many other things, young love, loyalty, college, sisters, mental health, etc., but it also happened to be my primary introduction to the world of fanfiction.
Fanfiction is fascinating. For simplicity's sake, fanfiction, or fic, is fiction about characters from an original work created by the fans of that original work rather than the original creator. There is fanfiction about everything. You name it, there's fanfiction about it. Books, television shows, movies, celebrities, video games. Everything has a fandom, and everything has fanficiton. But I'm no expert. In March, New York Magazine did a
phenomenal piece
on fanfiction, and for the uninitiated, I highly recommend it. Seriously, it's fascinating.
Fangirl fan art from the Special Edition
Side note: Rainbow Rowell has been supportive and excited about all the fanfiction and fan art that her novels have spawned. The special edition of Fangirl even features fan art on the end papers. Just look at that! It's gorgeous. And that's what is so interesting about fanfiction and fan art, a lot of it is really, really good.
There is some disagreement as to the legitimacy of fanfiction. But then, all creativity seems to blur the line of appropriation and homage.
Fifty Shades of Grey
is without doubt, fanfiction. But so too are all those
Pride and Prejudice
continuations. Isn't Michael Cunnigham's
The Hours
just Virginia Woolf fanfiction? And what about PBS's Sherlock? Or sampling in music? And who is Harry Potter anyway but just an amalgam of all the orphaned chosen ones who came before him?
Partly, I wave the banner of fanfiction because I loathe the inherent snootiness of the literary world. I firmly believe in reading what you want to read without apology. I refuse to label anything I read as a guilty pleasure. And so I proudly read fanfiction, and romance novels, and young adult books; and none of that takes away from my love of Moby Dick, or NYRB books, or everything Andrew Holleran ever wrote. I like what I like and I read what I like and I never feel guilty about any of it. And I encourage you to do the same. Don't hide that copy of Fifty Shades of Grey! And read Fangirl, and then read Carry On.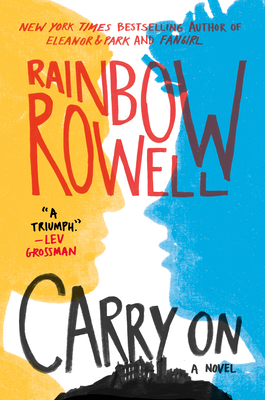 Carry On
by Rainbow Rowell
It's quintessential Rainbow Rowell, even if it does take place in a world that doesn't quite exist. It has friends, and school, and drama, and love, and angst, and lots and lots of kissing, all with dragons and wizards as an added bonus. And her dialogue and humor are as sharp as ever. It's been awhile since a book had me swooning and nail biting quite like this one, and the familiar Harry Potter feelings it conjures add a lovely nostalgic feeling to the whole enterprise.
The book is great, but I almost love it more for it's concept than anything else. Fanfiction written by an author who wrote the original work in which the fictional fanfiction played a major role. It's head-spinning. Though I guess you could say it's really just Harry Potter fanfiction. Well, whatever it is, it's great.
And my old review of
Fangirl
, because even though
Carry On
can stand on its own, you really shouldn't miss out on the joy that is Fangirl.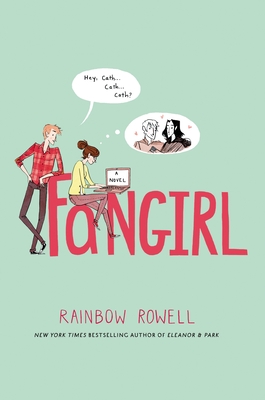 Rainbow Rowell has done something magical. She's written a delightful book for young adults that will charm and captivate regular old adults too. A love story; an honest look at mental health; family drama; loyal friendships; and nerdy, Harry Potter-esque fanfiction all wrapped up in the exciting, heady first days of college. Rowell pulls all of it off in this one perfect novel. It's a marvel of a balancing act that many "masters" of adult fiction couldn't do.
Smart, funny, sweet, and dizzingly romantic. The love story alone will have your stomach flip-flopping with memories of your own first love. These characters leap off the page and I desperately wish that they were real. That's how lovely they are. She writes them with a kindness and genuineness that never wavers into sentimentality.
All of her books are wonderful, but Fangirl is my favorite.
I know a lot of you hesitate to read young adult fiction, but when something this good comes along, it's time to challenge your biases and open yourself up to something inspiring and wonderful.

-Erin