Today's staff must-read new book isn't exactly new, but it was a successful debut novel last year and it just came out in paperback last week. The follow up novel, Domina, also comes out in July, so we thought it would be a good time to bring this book to your attention. (It's also been optioned for film, if that's a factor for you.)
Reviewers loved
Maestra
and Hilton was immediately compared to the likes of Patricia Highsmith, Stieg Larsson, and Gillian Flynn. In fact, it was touted as being a sort of
Gone Girl/The Talented Mr. Ripley
meets
50 Shades of Grey
. Smart, funny, compelling, and fast-paced, this book is compulsively readable. Wes, from our Lake Forest Park location, loved it so much he read parts of it to me while I was trying to eat my lunch.
Here's what he has to say about Maestra: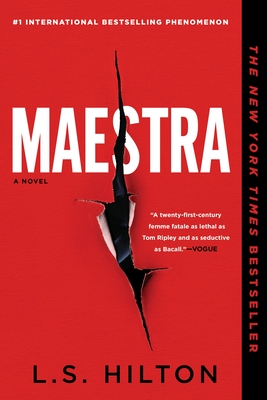 Listen. It's flashy. It's a little trashy. It's so gratuitous (and occasionally heartless) you might get a little rashy. But as someone who grew up obsessed with the silly lavishness of Dynasty and Lace these are all selling points. It's getting hot outside and a little decadence never killed anyone (summer isn't exactly the right time for The Decalogue, you know?). The character's slow, tawdry, expensive descent into psychopathy had me blushing, balking and laughing out loud. Maybe not Hilton's intention, but the low-throttle maniac she has created here wouldn't hold it against me. -Wes
Time to pick up this page-turner before Domina comes out in July!
-Lish