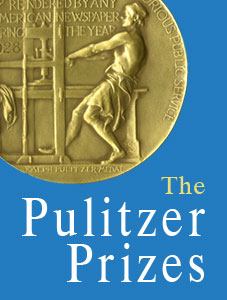 Wow. The Pulitzer Prizes were announced today. And everyone is stunned (or at least I am) that there was no prize awarded in the fiction category. It's the first time since 1977 that there has been no fiction award. However, the Pulitzer Board did reveal the finalists for fiction, I guess it was the least they could do. The nominated finalists were
Train Dreams
, by Denis Johnson;
Swamplandia!
by Karen Russell; and
The Pale King
, by the late David Foster Wallace. Seems in this case it might not have been an honor just to be nominated...
Other (actual) winners include:
Drama
:
Water by the Spoonful
by Quiara Alegría Hudes
History
:
Malcolm X: A Life of Reinvention
, by the late Manning Marable
Biography or Autobiography
:
George F. Kennan: An American Life
by John Lewis Gaddis
Poetry
:
Life on Mars
by Tracy K. Smith
General Nonfiction
:
The Swerve: How the World Became Modern
by Stephen Greenblatt
I"m especially disappointed as the Pulitzer fiction prize is my favorite book prize. I guess I'll just have to read all the finalists and choose for myself. That being said, if
I
were awarding the prize it would go to the
Tiger's Wife
, by Tea Obreht.
Posted by Erin B.