We've all been rather impatiently waiting for A Conjuring of Light to arrive on our shelves. If you haven't read this series yet, lucky you! Because now you get to get all three at once and binge read like nobody's business.
If you have read them, I am fairly certain that you not only knew that A Conjuring of Light was coming out this week, but that you've been preparing for it by rereading the first two books and also maybe figuring out how you can get your own Kell body pillow.
If you haven't heard of the books yet at all, here is a list of things from the author that might tempt you. The Shades of Magic series includes:
–Magic
–Cross-dressing thieves
–(Aspiring) pirates
–Londons (plural!)
–Sadistic kings (and queens!)
–A royal who is equal parts Prince Harry and Jack Harkness
–More magic (blood magic, elemental magic, bad magic, etc. etc.)
–Epic magicky fights scenes
–Angst!
–And coats with more than two sides
I have two more reasons for you to get crackin' on this series.
1) It's being adapted for television. So basically you need to read it now so that you can be the cool kid who's already finished the series before the show even comes on.
2) V.E. SCHWAB WILL BE AT THIRD PLACE BOOKS THIS THURSDAY. (Lake Forest Park) THIS IS NOT A DRILL, PEOPLE. A-WOOGA! A-WOOGA!
(This is how your face should look right now.)
If that isn't enough to make you check out this series, then I'm not sure we can be friends anymore.
Okay, we can still be friends. Maybe. But I've got my eye on you, people.
-Lish
Click here for more info on our author event!
A Conjuring of Light by V.E. Schwab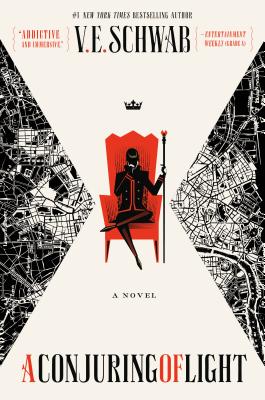 Londons fall and kingdoms rise while darkness sweeps the Maresh Empire, and the fraught balance of magic blossoms into dangerous territory while heroes struggle. The direct sequel to A Gathering of Shadows, and the final book in the Shades of Magic epic fantasy series, A Conjuring of Light sees the newly minted New York Times bestselling author V. E. Schwab reach a thrilling conclusion concerning the fate of beloved protagonists--and old foes.