The sun is out and we can finally believe summer is here. This is what happens in Finnish author and artist Tove Jansson's
Finn Family Moomintroll
when Snork and Moomintroll spot the first butterfly of spring:
"(As everyone knows, if the first butterfly you see is yellow the summer will be a happy one. If it is white then you will just have a quiet summer. Black and brown butterflies should never be talked about – they are much too sad.)"
I have yet to see a golden butterfly, but keep a lookout!
For those unfamiliar with the Moomin series first published in 1945 in Swedish, the books concern a raggle-taggle bohemian bunch of forest creatures from Jansson's imagination living in an idyllic place called Moominvalley. The stars of the books are the Moomintrolls, who resemble hippopotamuses in Jansson's drawings and are "smooth and like sunshine" – Moominpappa, Moominmamma and Moomintroll – and a whole host of guests and friends including but not limited to a Hemulen, Snufkin, Snork, the Snork Maiden (Moomintroll's beloved), Little My, a Mymble, a Fillyjonk etc.
The Moomintroll books are classics of Scandinavian kids' literature and have been loved worldwide (especially by the Japanese). These charming books have just been republished by Puffin in bright editions perfect for summer trips and reading aloud.
Start with the first book,
Finn Family Moomintroll,
which introduces our friends who are waking up after a long winter hibernation with nothing but pine needles in their bellies: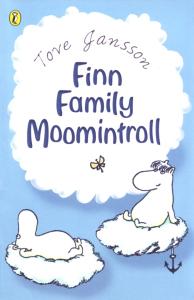 and move onto
Moominsummer Madness
!
(From one convert to another, I promise you won't be able to stop...)