There are many joys that come with bookselling, naturally other booksellers being top of the list. Besides their wit, kindness, humor, and general all-around goodness, they're also readers. And as a reader, I often turn to these other, more well-read readers for ideas on what I should read next.
Wes!
So when I was hoping to find some books or essays on obsession, I knew just who to go to. Wes is invariably the guy you want to talk to if what you're searching for is just a little bit unsavory, just a little outside the mainstream, just a little cringe-inducing, but hugely fascinating. What's great about Wes is his ability to offer books that target just what you need but also suggestions so weird they couldn't possibly work and then turn out to be exactly what you're looking for. So in my search for obsession, Wes offered up a book about stalking, and one about drinking, and also one about a diary.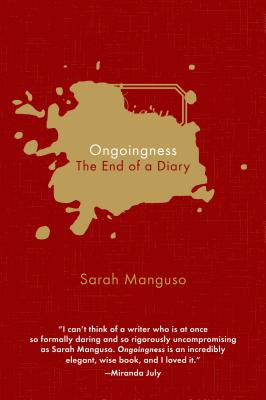 Well, more precisely, it's about a woman keeping a diary, and then not keeping that diary. The book is
Ongoingness: The End of a Diary
, and the author is Sarah Manguso. Wes had figured that Manguso's obsession with recording her life, (her diary had stretched to 800,000 words-- for a frame of reference,
War and Peace
is just a little shy of 600,000,) was exactly the kind of obsession I was looking for. He was right.
Ongoingness
is one of the best books I've read this year, perhaps my favorite. Instead of a memoir, it's more of a commentary on the keeping of her diary. What it meant to her, what she wanted it to be, how it failed. It seems no coincidence that Manguso's manifesto comes in this slim little volume; miles away from 800,000 words.
Of the diary, she says,
"I wrote so I could say I was truly paying attention. Experience in itself wasn't enough. The diary was my defense against waking up at the end of my life and realizing I'd missed it."
Illustration by Montse Bernal/Reference:
Andy Ryan; From the New Yorker
Ongoingness
feels like a study of thinking and overthinking. It's spare and precise; brilliant. And eerie in it's universality. She explores motherhood, mortality, purpose, but mostly her compulsion to record evidence of her own existence. Manguso reads my mind and writes about my exact worries, yet she says it with an elegance and economy that is startling. So many times I stopped, and reread, and opened
my journal to record her words and my own meager thoughts about those words. There is no way to read this brilliant woman and not feel like a dullard in comparison, but the kind of dullard who may just be on the right track
After
Ongoingness,
I inhaled more of her work.
The Guardians
, an elegy on the loss of her friend, his madness, and her fear of her own. And
The Two Kinds of Decay
a study of the rare disease Manguso battled in her twenties and the depression and havoc it lead her to. All of her books are beautiful; all of her thoughts, wise. She is the writer I wish I was, the thinker I aspire to be.
Read her.
-Erin